Karnataka LMS Program 2023
Karnataka LMS Scheme 2023: The Karnataka government has established a digital introduction program plan known as the Karnataka LMS Scheme for the first time. Digital platforms offer digital courses in a variety of languages. According to the Karnataka administration, this digital project will increase e-learning options in educational institutions such as schools and colleges. This essay will teach you everything you need to know about the Karnataka Learning Management System 2023.
Karnataka LMS Scheme 2023
Mr. S.S. Yeddyurappa, the former chief minister of Karnataka, has launched the Learning Management System Scheme (LSM). Students can access educational content from anywhere at any time using this LMS-based digital learning platform, which encourages self-learning among students. The Karnataka government has budgeted Rs 34.14 crores for the Learning Management System project. The LMS platform will support 2500 ICT-enabled classrooms and digital learning-based learning management systems.
For classroom administration, the LMS scheme will include PPT practice tests, study materials, and video lectures with 10 multiple-choice questions. Many digital methods leave a lovely imprint on pupils' thoughts. PPT PowerPoint presentations, movies, quizzes, assignments, and study materials are just a few examples of digital courses in different languages. According to the Karnataka state government, this digital effort will increase e-learning in schools and institutions.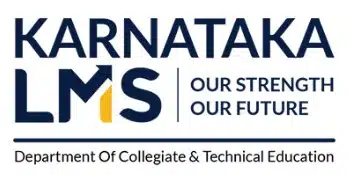 Highlights of Karnataka LMS 2023 Details
| | |
| --- | --- |
| Name | Karnataka LMS – Learning Management System |
| Beneficiary | Students Of Karnataka |
| Started On | 2022 |
| Started By | Government Of Karnataka |
| Concerned Authority | Department Of Collegiate & Technical Education |
| Objective | Online Platform For Digital Learning |
| Official Website | https://karnatakalms.com/home |
Objectives of the Karnataka LMS Program
Students in Karnataka will profit from the scheme's implementation. According to the issued official report, this initiative will assist 4.5 lakh pupils and 24,000 instructors/teachers in Karnataka. The scheme has a budget of around 34 crores. The authorities are establishing 2500 ICT-enabled classrooms, as well as digital platforms and systems, under the project. 
The fundamental goal of this digital project is to bring educational institution curricula such as schools and universities online and into digital format.  The Learning Management System Project in Karnataka costs 34.14 crores. The LMS Platform will be administered by 2500 ICT-enabled classrooms and digital learning-based learning management systems.
Benefits of the Karnataka LMS Program
As part of this new digital program, both students and instructors are urged to increase their digital literacy.

Furthermore, the KLMS Scheme of Benefits benefits lecturers and instructors by aiding them in moving from traditional teaching methods to digital learning methods.

The Learning Management System Scheme permits students from public schools and universities to compete academically with students from private and corporate institutions.

Staff employees, including lecturers and instructors, profit from shifting from the traditional style of teaching to the digital method of learning by using a digital medium. As pupils have a better understanding through digital mediums and graphics.

It has a favorable impact on school retention rates as well as the number of students admitted.
Documents Needed
Mobile Number

Email ID

Student School Enrollment Number

Birth Certificate
What is the Karnataka LMS Scheme Application Procedure?
Because the Chief Minister would introduce the Karnataka LMS Scheme, the higher authority has not advised an application process. There is no LMS Scheme portal available. You will be notified when the gateway for this scheme goes live. Students benefit from this scheme's digital learning, which has not yet begun online. We will tell you when the online procedure for this plan becomes available. In addition, the Karnataka government will formally launch a program app on the Google Play Store. Students can use this program to attend online classes via mobile devices and tablets while under the supervision of certified teachers.
Karnataka Ganga Kalyana Scheme